"And when the world becomes too little or too much
The shadow mind contrives
The triumph and the tragedy that we invite into our lives
And Adam glanced back at the tree
As he was leaving
Said, "Baby, that's the price we pay
Knowing is grieving""
-- Don Henley, "The Genie"
You always know I'm having a bad day when I start quoting Don Henley lyrics. He was pretty much the single defining feature of my childhood musical tastes. Thanks to my dad, I grew up on a steady diet of rock gods: The Eagles, Led Zepplin, Rod Stewart, Eric Clapton, Neil Young. Don Henley was always my favorite, though. I wore all the sound off of "I Can't Stand Still" on cassette because I listened to it so much.
Now I pretty much just turn to Mr. Henley on crappy days. It's like comfort food.
Anyway. I woke up this morning very excited to run over and check the Christmas in July entries. Before I could get online, though, I went to check on the rats as I always do in the morning, and was greeted with three sets of noses instead of four.
I wasn't exactly shocked to lose Normoth. He's been aging fast over the last few months as he approached his 2nd birthday, and the last couple of days he was ailing with symptoms that didn't seem to line up. Digestive issues, neuro issues, respiratory issues. I know from family history that his siblings have been prone to very aggressive cancer, so that's my best guess, but who knows for sure?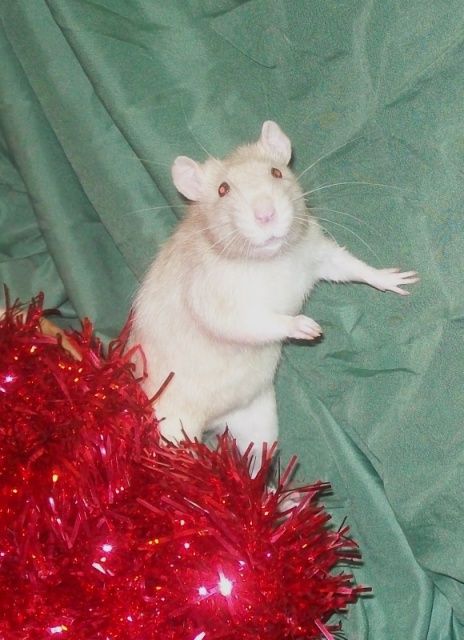 Normoth during the Christmas photo shoot. He was such a little camera ham.
Anyway. Any day that starts with a dead pet is bound to end badly, and mine's been slowly spiraling downward since I woke up. No hits in the contest yet (although I'm happy to say that several of my friends have gotten requests, which fills me with delight for them!), and I got an extremely confusing rejection letter today that I'm not sure how to process. Then all day I've been dealing with allergies, except it might be the flu, which would probably explain why every muscle in my body suddenly hurts.
But, right. I bring all of this up not for pity, but just to say: that wheel, it just keeps spinning. There's days when you're up! Days when you're down! Days when you're smashed in a muddy tire track somewhere. But you just have to keep on riding it out, and eventually you come back out on top.