First off, I got nominated by my friend
Rachel for the Very Inspiring Blogger Award.
Rachel, by the way, is an awesome person. We fantasy writers have to stick together, and she's combined several of my favorite things into her book (mostly, she had me at "rodent people").
Anyway, here's how the award works. First, I post this pretty picture:
Then, I post these helpful instructions:
1) Thank the person who nominated you and link back to their blog.
2) List seven random things about yourself.
3) Nominate other blogs.
4) Notify the nominees.
5) Put the award logo on your blog.
So, seven random factoids:
When someone says something that's factually inaccurate, I feel morally obligated to correct them. This very rarely ever ends well for me, but I can't seem to stop myself.
Along those same lines, there is basically nothing that annoys me more than someone acting like an insistent know-it-all and they getting their facts wrong. I compulsively fact check everything before I correct people so I don't come across as "that" person.
From the time I was 6 until I was 13, I lived with my family in a 31-foot motor home. I'm probably better than most people at sharing tight spaces thanks to that.
I like naming things, including inanimate objects. (My current laptop is named Serenity. Before that, I owned Zorn, and Parnassus before that).
When I was younger, I used to be positively obsessed with the supernatural, and I read every "parapsychology" book in the Aztec public library. I suspect this interest led me to being a skeptic as an adult.
I drank my very first glass of wine when I was 16. I was at my brother's house and we watched Labyrinth and ate apple pie with slices of very, very sharp cheddar. I have no idea why this memory is so vivid.
When I first adopted my dog, Totoro, I didn't really like him that much. I got him primarily to keep my boyfriend company while I was at work. Which backfired horribly when it turned out that Totoro is terrified of every human being that isn't me. He sits in my lap now all day while I work.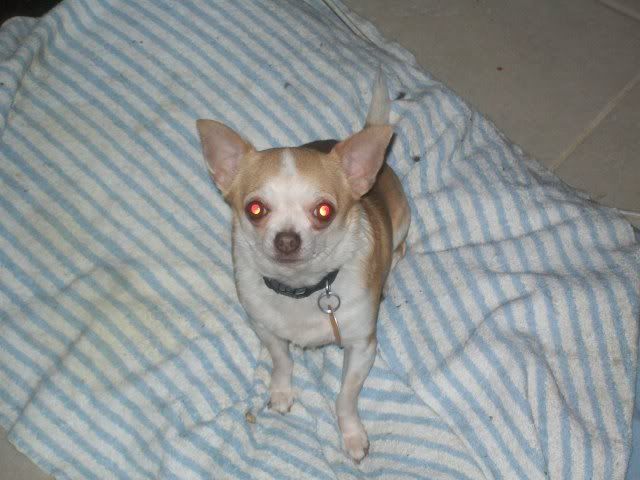 Totoro knows he's cuter than you.
Now, I'm not going to tag anybody specific this round because most of the bloggers I'm following are pretty swamped right now. So I'm going to take the cheap way out: If you want it, consider yourself tagged! Go forth, my pretties! *insert maniacal laughter here*
Now, the link spam!
If you're not already subscribed to
Unicorn Bell,
you totally should be, because all this month they're running a query workshop. For the first week, they have instructional query letter posts. Then, readers get to send in and workshop their own query letters. In the final week, a bunch of guest judges will be reviewing the queries and possibly requesting to see more. So much excitement! Go check it out right now!
And, finally, a heads up. I'm going to be taking a much-needed vacation from the Internet for a little while. If you don't see me around on the social networking sites, that's why. Unfortunately, I can't stray too far because I have work to do online, but I think it's probably best for my sanity if I spend as little time online as possible for a bit. So apologies in advance if I'm hard to get hold of!